The New Silversmith:
Crafting Nature-Inspired Jewelry with a Revolutionary Zero-Waste Methodology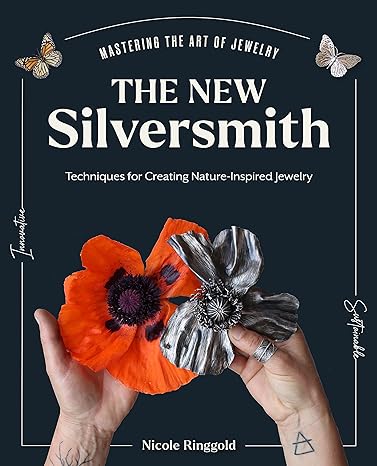 Are you ready to transcend the boundaries of traditional metalworking? Discover how to blend art, nature, and sustainability in a game-changing way with "The New Silversmith."
---
Why This Book Is Different
Innovative Techniques
: Nicole Ringgold breaks from metalworking's conventional wisdom, introducing you to advanced sculptural torchwork methods. Her intricate designs mimic the complexities of electroplating, carving, and casting, without the need for excessive chemicals or waste.
Sustainability at Its Core
: Say goodbye to waste. Learn how to responsibly repurpose scraps of sterling silver, significantly reducing your footprint in the creative process.
---
Inside the Book
Metal, Torch, Tools
: A comprehensive guide to materials and supplies you'll need, and how to wield them like a pro.
Stunning Projects
: Whether it's a simple silver chain or a detailed dragonfly pendant, step-by-step instructions backed by illustrations fuel your inspiration and guide your craftsmanship.
QR Code Enabled
: Unique QR codes sprinkled throughout the book link to exclusive online tutorials, making the learning process interactive and engaging.
---
What You'll Create
Sumptuous, one-of-a-kind pieces of jewelry—earrings, pendants, bracelets, and rings—that are not only beautiful but are also crafted with a respect for Mother Earth.
---
Don't just make jewelry. Create art that intertwines with nature and sustainability.